It is very difficult to write a food blog, in a language that is not yours….Your difficulties begin when you try to explain a recipe.. Not matter how much, or for how many years you studied a foreign language, nobody teaches you the subtleties of "cooking vocabulary". So, for each of my posts, I spend an enormous amount of time checking words, looking up words in the dictionary, internet, etc….
And out of the sphere of cooking, I am also in trouble when I try to express my feelings..I feel like someone with a leg in a cast, trying to win a race…I can give you an idea of what I feel but never the full extent…Somebody said: "We can only love and hate in our own language", and that's so true!
So today, I feel my heart is bursting..and I have so many things to tell you!! I feel completely overwhelmed by what has happened this week…You have been SO generous in your appreciation of my previous post…and a million words of thankfulness are in my heart and in my mind..but they are all in Spanish! and I feel that what I can say in English seems so poor, in comparison…and I'm writing this with tears in my eyes..yes! because tears should not be the realm of suffering, or sadness…Tears come also when our heart does not know how to tackle so much happiness, surprise, thankfulness… I feel and I know I am a "mere nobody" in this world of blogging, so each single comment you sent, for me…for me, has been like a piece of bloggers' heaven!
Muchisimas gracias !!! Cada una de sus palabras quedara para siempre en mi memoria…asi pierda (lo cual probablemente suceda!) Ustedes YA me hicieron feliz!! Muchisimas gracias!!
Well, and now I don't cry any more…I leave you in company of this super-simple "tarte fine". It is the champignon season, and I have been so busy with the contest and whatnot…that I thought about this…so easy to make..yet delicious!!! Almost no pastry…to crown the flavor…
of these champignons, tomatoes, a bit of persil, a little "shower" of olive oil…and it's Cristina: fleur de sel and piment d'Espelette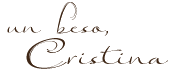 If you believe you need a recipe, look below…
Tarte Fine à la Tomate et Champignons
* Buy some good quality puff pastry (400gr), spread it on a floured board, with a rolling pin till it is 3mm thick. Cut out rectangles, circles, small, big..as you wish! (here I followed the shape of my dish) Place the tarts on a baking sheet, sprinkled with cold water. Refrigerate for 30′; Pre-heat your oven 200°C. Bake the tarts, first 5′, then, put some parchment paper on top, and a heavy baking sheet, to prevent the tarts from growing thick..Bake 10′ more.
Slice the champignons (previously lightly washed and dried) and the tomatoes (unseeded). Arrange the slices, just as you want..a line, rosette…Drizzle with a bit of olive oil and chopped persil. Bake (210°C) for 4′. Season with "fleur de sel" and piment d'Espelette