Et oui, I think most women go through the same momentum…around the month of June…we have to start considering getting into some sort of swimwear!!! and there we regret…so many sweet tarts…beef…icecream….so "OK, girls…time for fish!" Well, this fish is not that diet, but it's fish….we digest it faster….and then it is not a question of going on a "horrible-food crusade" No, we have to get slim with style…!!
I have my mind set…and let me tell you that when I want something I don't spare the efforts!! In one month I will fit inside one of these "maillots de bain" Yes! I'm in two minds between the Grace-Kelly blue "une-pièce"…oh so chic!…and the cherry-sportive one, to bring out my Roland Garros side (??!!) Do you think my husband will think I look like Sharapova?
One thing is sure, if you want to be considered the queen of French glamour (on the beach), "le maillot" has to be Eres!! Hide away your Banana Moon, or that bikini you bought at C&A….A French lady "Rive Gauche" only wears Eres!! (so expensive that you won't even dare to get in the sea with it…well, the sales are coming, so I think I could afford a summer 2009 model ;D
"Maillot de Bain" photos: Eres Collection 2011
Have you noticed the word "maillot de bain"? How sexy the word is??? It's not the same to talk about your "bathing suit" than saying "I will slide into my maillot de bain…" Why are French words connected with intimate wear so sexy??!! And "soutien-gorge"? (bra) Even pronouncing the word is sensual….What would Noam Chomsky say about this?


Ok…back to my fish….The salmon here has a ricotta-almond filling, and spinach on top….and the sauce is a mixture of lime, passion fruit, ginger, basil and butter (but a tiny bit, to give it its silky look!) You can do away with butter if you want, as I did…Didn't I say I was dieting?
Enjoy it girls!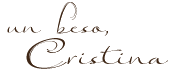 To make this Salmon, Ricotta & Spinach, you will need:
(4 servings)
*salmon, 4 pieces *spinach sprouts, 100gr *egg, 1 *ricotta, 150gr *almond powder, 50gr *garlic, 1 clove, chopped *salt & pepper *piment d'Espelette *olive oil *grated parmesan, 2tbsp
Pre-heat oven 180°C. Slice salmon in two (alongside) without actually separating the two parts. Combine the ricotta, garlic, egg, almond powder, salt& pepper, piment, and a little olive oil. (save some mixture to put on top ) Spread the mixture inside the fish, place some spinach leaves, and close. Spread the rest of the mixture on top, some spinach leaves. Fasten with a cotton thread. Sprinkle with some olive oil, salt & pepper, and parmesan. Cook 20/30′ (depending on how thick your fish is) Serve with the sauce.
For the Lime/Passion Sauce, you will need:
*lime juice, 1 *passion fruit juice, 2 (without seeds) grated ginger (to taste) *salt & pepper *piment d'Espelette (to taste) *butter, 80gr, melted *basil or dill, 1 tbsp, chopped
Combine all the ingredients. You can add 2 tbsp of coconut cream if desired.
Recipe adapted "Elle à Table"