I was on the Metro, the other day, on the way to Le Bon Marché….my "temple", specially during the sales-season….when I saw an ad, for a new exhibit "Morceaux Exquis". The exhibit has nothing to do with cooking….rather it is an interesting tour around the artistic representation of the human body (and its different parts) in Mediterranean cultures….!
I loved the music of the words…and the concept ! Et oui ! an exquisite bit & bite can be made up of just two ingredients…just two things…three minutes in the kitchen, yet…an explosion of flavour!
Even bees love it!!
….like here…ripe apricots, shrimp, and a vinaigrette made with cilantro, dill, ginger...and just that!
So sweet…. so tangy….so orange….so Hermès …. yes, I am "soldes" vulture!!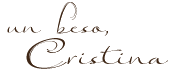 Shrimp/Apricot Forks
(for 10 people)
*shrimp, 20 *apricots, 5


For the Vinaigrette:
*ginger, a small piece, chopped *olive oil, 100ml *dill, 1tsp, chopped *cilantro, some leaves, chopped *garlic, 1 clove, chopped *lemon juice, 1 *fleur de sel *pepper
Prepare the vinaigrette combining all the ingredients. Sauté shrimps (previously peeled, intestine removed) in olive oil. Accomodate big slices of apricot and shrimp on fork. Drizzle with vinaigrette. Season to taste (fleur de sel/pepper)
Recipe (adapted) by Juliana Lopez May