Abajo, version y receta en Español !
Last Saturday, my Menu Malbec, was in charge of catering a Parisian private party.. When somebody contacts me, the first thing I find out is obviously, what it is they are celebrating, and where, and when and how…and for how many….and then, with that in my mind, I let my imagination go..my culinary imagination, and I come up with a menu, with different proposals, always using the products of the season…etc. Sometimes this process takes me a long time, because I really want to surprise "clients". I want their party to be, or feel "unique". And what happens? Clients stick to my classics or their classics !! No matter what I suggest, people always want Cristina's mauve macarons, with salmon !! or the empanadas, or my moelleux, or my fraisier…or if not, their classics..I can propose cheesecakes with amazing combination of flavors, but people want the New York style with berries….
The world is hard to change ;D, or at least, menus ! Now I understand singers…they want to sing the new songs of their new album, but the fans, want to hear once again, the oldies!
Well, but like singers, little by little, I manage to introduce my "new arrivals" and then people say: "oh, that was great!! First time I eat this…" and then what is new becomes with the time "a new old classic"…! 
My client also asked me for advice in decoration. The table had to fit the menu, so a "campagne chic" was the appropriate style ! 
But just when this party was over..another one began! My son turned 19 !!! (OMG !), and he invited his friends home for dinner.."Just 16 boys, Mom".
"Easy", I thought. Can you imagine what it is to feed 17 18-year-olds?? No, you'd better not imagine…So I made a second cheesecake, this time American at heart, Parisian in look..the usual cheese, plus a raspeberry mousse, plus a thin red layer of "nappage"….The boys loved it !!
While  I was making the macarons, I thought about the many mails I have received ever since I published these macarons..(it was my second post!) asking me aboutthe "piping" process..In fact, I don't pipe macarons  with the pastry bag in an upright position..I was taught to start from one of the sides (the right because I am right-handed) and I press the bag till I see the macarons have reached the right size..and then, with a swift motion from my hand, I stop ("cut"?) the flow..and yes, you will have peaks, leaning like the tower of Pisa, but then tapping softly your baking tray, they will disappear…
And that was all for the weekend..(Thanks God!!) I need at least one day of rest! (I'm not asking for too much!) I will do nothing on Monday…just strolling down my favorite "rue" (street)
This is how my daughter Camila visualized me. Isn't this better than Photoshop? Not a single wrinkle and look at those legs…sexy!! ;D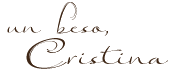 Un Cheesecake ( o dos!), Tips para Hacer Macarons, o Cuando Nuestros Clientes Quieren Solo Nuestros "Clasicos"
El ultimo sabado, mi  Menu Malbec, tenia a cargo el catering de una fiesta privada en Paris….Cuando alguien me contacta, lo primero es averiguar qué tipo de evento es, qué se celebra, y donde, cuando, como y para cuantos..y a partir de ahi, dejo volar mi imaginacion, mi imaginacion culinaria, para proponer ideas distintas, usando productos de estacion, y de acuerdo al gusto del cliente. A veces este proceso me toma bastante tiempo, porque realmente quiero sorprender al cliente. Quiero que sientan que su fiesta es unica..Y qué pasa? Muchas veces los clientes quieren solo mis clasicos o sus clasicos! Casi todos quieren mis  macarons lilas, de salmon !! o las empanadas, o mi moelleux, o mi fraisier…y sino, sus clasicos..Puedo proponer cheesecakes con combinaciones de gustos sorprendentes, pero quizas la gente prefiere el  New York style con frutos rojos…
Es dificil cambiar al mundo ;D, o por lo menos, los menues! Ahora entiendo a los cantantes cuando quieren cantar las canciones nuevas de un nuevo album, pero a el publico no le gusta..quieren los temas viejos, una y otra vez!
Bueno, como los cantantes, al fin logro "imponer un nuevo plato, y después la gente dice: "Estaba buenisimo..menos mal que lo probé.." y asi, lo que era nuevo..se convierte en un "nuevo clasico".
Mi cliente también me pidio asesoramiento en decoracion. La mesa tenia que estar de acuerdo con el menu…estilo "campagne chic!" 
Y en cuanto termino esta fiesta, empezo otra! Mi hijo cumplio 19 ! (OMG!) e invito a los amigos a comer.."Solo 16 chicos, ma !
"Facilisimo", pensé. Se imaginan lo que es darle de comer a 17 chicos de 19 años??!! No, mejor ni se lo imaginen..asi que hice otro cheesecake (venia embalada!) esta vez, de corazon americano, pero estilo francés: el cheesecake normal, mas una mousse de frambuesas, mas esa capa finita de abrillantador. A los chicos les encanto!
Mientras iba haciendo los macarons, pensé en todos los mails que he recibido desde que publiqué esta receta..(fue mi segundo post), preguntandome sobre el tema de la utilizacion de la manga...En realidad, en la mayoria de los libros, aconsejan poner la manga en una posicion vertical…"cada maestrito con su librito"..a mi me enseñaron a hacerlo de costado..Empiezo por la derecha (porque soy diestra) y cuando me parecen que los macarons tienen el tamaño apropiado, hago un movimiento brusco, de derecha a izquierda para "cortar" la masa..y quedan esos picos inclinados, como la torre de Pisa, pero después solitos, o con un golpecito suave a la placa, ya quedan impecables!
Y esto fue todo este fin de semana..(gracias a Dios!) Por lo menos tengo que descansar un dia (no pido mucho, no?) El lunes no voy a hacer NADA..bah, caminar por mi calle favorita..eso si!
Asi es como me visualizo mi hija Camila. No es mejor que el Photoshop? No tengo ni una arruga ! y mis piernas? sexy !!!!!!!!!!! ;D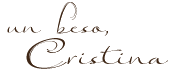 Read More →