En Español, en Color !
I needed a break, some days off..a short vacation to really turn the page for this year..It was a tough year for me, tough in the sense of work, maybe too much work, too much responsibility on my shoulders that brings about stress, negative thoughts, you name it! It just happened that my three kids left on different trips to different places, so the occasion was there for me to take..for us to take! and enjoy!
My husband and I decided to go somewhere in the south of France..where? it is not important..what's more, as the French say "pour vivre heureux, vivons cachés" (to live happily, let's live in the hiding") I just needed the sun, a nice bed, good meals, ice-cooled "rosé", and mostly, no cooking..no blogging thoughts! Yes, to be able to be presented with a dish without saying to my poor saint hubby: "Don't eat, don't touch it!! It'll take a photo for the blog"! I needed to go to the markets without believing it was absolutely crucial to show my readers a "coeur de boeuf" tomato…
Am I a bad blogger then? No, I was just trying to keep my mental health, and mainly I was trying to be only a woman..a simple woman in vacations with her loved one….
Necesitaba hacer un corte, tomarme aunque sea unos dias, para darle un cierre a este año….Fue un año duro, duro en el sentido de trabajo..quizas demasiado trabajo, demasiada responsabilidad sobre mis hombros, y esto trae stress, pensamientos negativos..todo! Sucedio que mis tres hijos partieron en diferentes viajes a distintos lugares, asi que la ocasion estaba ahi…esperandome, o esperandonos! A tomarla y disfrutar! Con mi marido decidimos ir al sur de Francia..donde? no es importante..ademas, como dicen los franceses: "pour vivre heureux, vivons cachés" (para ser felices, vivamos en secreto) Lo unico que necesitaba era el sol, una buena cama, ricas comiditas regadas de un buen "rosé" con hielo, y sobretodo cero cocina..y ni pensar en el blog! Si, que me traigan en un restaurant, o bar, un lindo plato sin que yo le diga a mi santo marido: "Parà que le saco una foto antes!!! No lo toques!! Entonces soy una mala blogger?? No creo..solo trataba de conservar "mi salud mental", y sobretodo queria "convertirme" en una mujer normal…una mujer comun y corriente de vacaciones con su pareja! 
And all of this set me thinking: "what kind of image do we food-bloggers show the world"? We seem to be these perfect beings, always worried about cooking incredibly looking-good dishes (that hopefully taste as good -that…nobody knows!) We have vacations in bucolic places, surrounded by nature: sheep, flowers, wild berries, and eggs..there are always eggs with a little feather stuck to them! (seems to be the latest fashion among hens!) And if these talents were not enough, we are excellent mothers, sisters, daughters, we are never in a bad mood, we are never vain, or selfish, we are more perfect than Laura Ingalls' mother!!
Y ahi empecé a pensar: "Qué imagen le damos al mundo las bloggers de cocina??" Parece que somos seres perfectos, solo preocupadas por cocinar platos que lucen "de revista" (y que con suerte, son asi de ricos también..aunque eso..nadie lo sabe!) Nos vamos generalmente de vacaciones a lugares bucolicos, rodeadas de naturaleza: ovejitas, flores, frutos rojos salvajes..y huevos…siempre hay un huevo con una plumita pegada a ellos (parece que esto es la ultima moda entre las gallinas!) Y como si nuestros talentos culinarios no fuesen suficientes, somos excelentes madres, hijas, hermanas, esposas, nunca estamos de mal humor, ni somos egoistas o engreidas...somos mas perfectas que la madre de Laura Ingalls !!!! 
Well…I'm not! There is another side to this Cristina, the cook…because first and foremost, I'm a woman! A woman capable of spending days on end cooking..dreaming of what selfishly she is going to get herself with her paycheck! That's me ! like a Cinderella in the kitchen thinking: "when I get my money, I will rush to the rue St Honoré, and I will get myself that pair of gorgeous Italian sandals I've seen..." And what happened, before my client even paid me, I did go to the rue St Honoré to buy the sandals..and coming out of the store, I make a few meters..and what do I see??? Another store, of another Italian brand..and I get in, and there it was, waiting for me! a pair of cigarette pants…couldn't be more colorful! I looked at them, and it was love at first sight…so Capri !! I hesitated though.."are they my age?" "mais oui, Madame! Vous êtes superbe" (ah! the bliss of French luxury salespeople..they lie so well!) Then I went home, and after dinner, I decided to surprise my family.."Taran!!!" (Cristina the model on the catwalk) My girls in unison: "And those pants???" (Cristina in panic): "What? Don't you like them??!!???" (Girls): "Yes, they are pretty, but it is not just you..you always wear beige, or black, or pastels…NEVER those colors"!! (and the word "never" was loaded with a hint of disapproval) (Husband): "What were you thinking of when you chose those pants?" and there I felt like a child, that had done the wrong thing…I felt I had to give a quick answer.."Capri, I was thinking of Capri !" "And who is going to Capri?", my husband said with that engineering logic that I find sometimes enervating…"Nobody? but I wish I were going to Capri…and tomorrow, I will go to the store, to return them, because you are mean and you don't understand me..and you make me feel ridiculous, etc etc etc (all of this in an ocean of tears, and temperament, and a melodramatic tantrum  that would leave an Italian operadiva (from Capri) absolutely pale!
Bueno, yo no lo soy!! Hay otro lado de Cristina cocinera y blogger, porque primero y principal, soy una mujer! Una mujer capaz de pasarse dias cocinando…soñando con lo que ella, egoistamente, se va a comprar en cuanto cobre! Si, esa soy yo! como una Cenicienta en la cocina pensando: "en cuanto me paguen, corro a la calle St Honoré, y me voy a comprar esas sandalias italianas soñadas que vi un dia…" Y qué pasa? Antes de que mi cliente me pague, voy a la calle St Honoré y me compro las sandalias..Y salgo del negocio, chocha, hago unos metros, y oh casualidad! hay otro negocio de otra marca italiana…entro ("solo para mirar") y ahi estan, esperandome unos pantalones estilo cigarette, con todos los colores posibles (parecen ordinarios pero no, eran re finos!) y zas! me enamoré de los pantalones también! Eran re-lindos, tan Capri…! Me entro la duda.."son para mi edad?" "Mais oui Madame", me dijo la vendedora, "vous etês superbe!" (esta divina!) Ah! qué bien mienten las vendedoras de los negocios de lujo..nos mienten con una clase! Esperé a la hora de la cena para hacer mi desfile.."Taran!!!" Mis hijas en unisono: "Y esos pantalones??? (Cristina en panico) "Qué? No les gustan???" (chicas) "Si, pero no son tu estilo! Vos siempre te vestis de beige, negro, blanco o colores pastel..NUNCA esos colores!!" ( y la palabra "nunca" tenia un tonito de desaprobacion…) (marido) "En qué estabas pensando cuando te compraste esos pantalones?" y ahi me senti como el chico que lo descubren haciendo algo malo…tenia que responder rapido y segura…"Capri, estaba pensando en Capri!" "Y quién va ir a Capri??" dijo mi marido con ese tono de logica de ingeniero que me exaspera a veces…."Nadie! pero tenia ganas de sentirme en Capri….!! pero no se preocupen porque mañana los devuelvo, porque ustedes son unos egoistas, y no me comprenden..y me hacen sentir como una ridicula, etc etc etc (todo esto dicho en un oceano de lagrimas, y de bronca, en un ataque melodramatico que hubiese hecho empalidecer a la mas grande diva de opera italiana! (una italiana de Capri, of course!) 
Of course, husband and girls reassured me, saying I looked "Oh so beautiful in those pants" and instead of being Laura Ingalls' mother comforting her children, here it was two teenagers spoiling their sobbing mother..! And I was, once again, imperfect, capricious, queen of fiery temper, but then "oh so tender, so funny in the end!" (this is what my family says!)
Qué paso? Las chicas y mi marido terminaron por asegurarme que los pantalones me quedaban "pintados" y en vez de ser la mama de Laura Ingalls haciendo mimos a sus hijas, yo tenia dos adolescentes que me alcanzaban un Kleenex para secarme las lagrimas! Y era yo otra vez: imperfecta, caprichosa, reina del caracter podrido, pero "tan tierna..y ademas, al final, nos hacés reir! (esto es lo que dice mi familia!) 
And there is no new recipe this time…because this time, it is just the woman that writes to you..the one that put her best lingerie in her suitcase, her favorite perfume, loads of clothes (for hot weather, for not so hot weather, casual, chic, shabby chic, chic decontracté but still chic…and it was France…but it looked like Capri !
Entonces hoy no hay receta nueva…porque esta vez, es solo "la mujer" que les escribe..la misma que lleno su valija de ropa interior "wow", y su perfume favorito, ropa hasta el cansancio..("por si hace mucho calor, por si NO hace mucho calor, informal, chic, chic pero informal, chic cool pero todavia chic) y nunca dejé Francia..pero parecia Capri !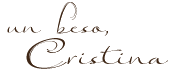 PS: for a Capri-related recipe, click here ! 
PD: para una receta inspiracion Capri, hacer click aqui !