Abajo en Español
- "I don't understand..is it rice or pasta?" asked my husband..(Yes, I have been married to an engineer long enough to know that for them, life is "either..or". Fusions are not quite their thing….)
- "It's pasta cooked as if it were a risotto…" (I knew this statement was far from "seeing the light" for my dear hubby…Cooking is not his thing..BUT I must admit he is great making Argentinean barbecues!)
Orecchiette (plural of the Italian word "orecchietta" meaning "small ears") are one of my favorite type of pasta for two reasons: their original shape, and the fact that the sauce finds a kind of "nest" in this "ear" …In this case, there is no sauce but the stock (chicken or vegatable) that you use to cook the pasta in…There is saffron, and then, for an international confusion, (that some chefs would call "fusion" ) some Spanish chorizo...!
Yes, someone said that Argentineans are Italians that speak Spanish…so this dish represents me…"Mamma Mia!" y "Olé"!
Cocinando con ®Revol: Risotto de Orecchiette, con Chorizo…para una Comida Facil !
-"No entiendo…es pasta o arroz?" pregunto mi marido..(Si, llevo casada los suficientes años con un ingeniero como para saber que para ellos las cosas son "blanco o negro". La fusion no les va..!)
-"Es pasta pero cocida como si fuese un risotto.." (Y ahi ya sabia que mi maridito no iba a "ver la luz"..La cocina no es lo suyo..pero OJO es un master con los asados a la argentina!)
Orecchiette (plural de la palabra italiana "orecchietta", que significa "pequeña oreja") es una de mis pastas favoritas. Por qué? Porque en el hueco de la orejita se queda instalada la salsa, como en un nidito…Bueno, aca no hay salsa sino el caldo en el que se cocina la pasta! Luego hay azafran, y para asegurarme una confusion internacional (que algunos chefs "paquetes" llamarian "fusion") le agregué chorizo español..!
Y si..alguien dijo que los argentinos son italianos que hablan español..entonces este plato me representa: "Mamma Mia" y "Olé" !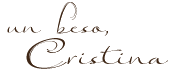 To make this Orecchiette Risotto, you will need:
(serves 4)
*orecchiette, 500gr *parmesan cheese, 100gr *spanish chorizo, 150gr, sliced *saffron, one pinch or capsule *big onion, 1, sliced *vegetable stock *white wine, 150ml *butter, 70gr *salt&pepper
Sautée the chorizo in a non-stick pan, without any kind of fat. Set aside on absorbing paper. Melt 30gr butter (or olive oil) in a ceramics bowl as shown, or a cocotte. Sautée the onion till it turns white. Add in the pasta. Combine well. Cook 3/4′. Incorporate wine. Cook till evaporation. Start adding the vegetable stock (hot) & saffron. Proceed like for a normal risotto, ie, when the stock is absorbed, add some more. Repeat this process, till the pasta is almost "al dente" (or a tiny bit harder) Turn off heat. Add in the cheese, the rest of the butter, and the chorizo. Combine well. Cover for 2′. Check seasoning. Serve.
Para hacer este Risotto de Orecchiette, van a necesitar:
(4 porciones)
*orecchiette, 500gr *parmesano, 100gr * chorizo español, 150gr, cortado en rodajas finas *azafran, una capsula *cebolla grande, 1, cortada en juliana *caldo de verdura *vino blanco, 150ml *manteca, 70gr *sal y pimienta
Saltear el chorizo en sartén anti-adhesiva, sin materia grasa. Reservar sobre papel absorbente. Derretir 30gr de manteca (o aceite de oliva) en una cocotte. Saltear la cebolla hasta que luzca transparente. Agregar la pasta. Revolver bien y cocinar 3/4′. Echar el vino, revolver hasta evaporacion. Luego, ir agregando caldo caliente de a poco. Cuando se absorbe, agregar un cucharon mas y continuar asi hasta que la pasta esté casi al dente. Luego apagar el fuego. Agregar el resto de la manteca, el queso rallado, y el chorizo. Mezclar bien. Tapar. Dejar reposar 2′. Agregar sal y pimienta si necesario, y a gusto. Servir.
Receta Beatriz Chomnalez