Abajo en Español !
The day we decide to write a food-blog, we realise that, for each post, we will have to make two major choices: what? and Where? Will it be savory..sweet..a soup, icecream, comfort food…?
And once we have solved that question, the second one comes: where will we present our dish…in the same dish we have used for cooking..or in a special dish for presentation? And we start buying..collecting items (more than a normal person would ever use in a lifetime!), and we have our favorites! Those dishes we love because they are great for cooking..AND taking our food to the table, those that are so well designed that seem to be the perfect jewelry box for our precious "gems"…
Just like that, checking what the French market had to offer, I started using Revol..without thinking of the brand in itself..just looking for porcelain that would be great to cook with, and would look great..The proof of what I say? My old posts here, here, or here….here, here or here too!
What I didn't know…and this is where blogging becomes a world full of surprises, was that Revol was looking at me too! Yes, Revol, the quintessence of French culinary porcelain! A family-owned company since 1789! French savoir-faire to the service of the professional cook AND the family kitchen! Looking for new horizons, the company is expanding their business to the USA and the rest of America, and I was contacted to see if I wanted to be part of this venture…cooking with the brand that I had adopted before they adopted me!
My answer was "yes" because it was a genuine partnership! Because I thought Revol was good quality and excellent design before I could ever dream of being their recipe developer and photographer! A natural thing…
Just like a girl with lots of new toys to play with (and probably happier) I decided to share with you my first recipe..in this gorgeous tagine dish! The recipe today will be a fish tagine…as an alternative to the traditional lamb tagine…but the dish can be used for a vegetable one..or whatever you want! It is true that a tagine dish immediately transports us to Morocco, a world of spices…mysterious Eastern culture! but the same dish can be used for whatever requires long hours in a warm oven…braised meats, vegetables "confit", etc…
And then, the magic trick ! Capturing our "audience" in awe, when we lift the lid, and "voilà" smoky vapour unveils a cloud of scents…Cooking has also a part of theatrical drama!
Enjoy!
Importante Anuncio! Cocinando con ®Revol. Hoy: Tagine de Pescado 
El dia que decidimos comenzar a escribir un blog de cocina, nos damos cuenta que, para cada entrada, debemos hacer dos elecciones mayores: el que? y el donde? Sera salado, dulce..una sopa, helado, comida de todos los dias…? Una vez resuelto esto, viene la segunda cuestion: donde vamos a presentar nuestra comida..en el mismo plato donde lo cocinamos…o un plato especial de presentacion? Y ahi empezamos a comprar…coleccionar cosas (muchas mas de las que un ser humano normal tendria en toda su vida!), y tenemos nuestros favoritos! Esos platos que amamos porque son buenisimos para cocinar Y llevar nuestra comida a la mesa…aquellos que ademas estan tan bien diseñados que parecen ser una cajita perfecta para nuestras "joyas"….
Asi, viendo lo que el maercado francés me ofrecia, empecé a usar Revol.…sin pensar en la marca…solo buscando cosas lindas y buenas en porcelana culinaria…La prueba de lo que digo? Todas estas entradas ya viejas de mi blog y de Menu Malbec aca, aca,aca, aca, aca y aqui también!
Lo que no sabia...y esto confirma que escribir un blog trae muchas sorpresas, es que Revol me estaba mirando a mi también! Si, Revol, la quintesencia de la porcelana culinaria francesa! Una empresa familiar desde 1789! El savoir-faire francés puesto al servicio de los chefs profesionales y de la cocina familiar! Buscando nuevos horizontes, la empresa expandio su negocio en los Estados Unidos y el resto de America, y me contactaron para ver si yo queria ser parte de esta aventura…cocinando con la marca que yo habia adoptado antes de que ellos me adoptaran a mi!
Mi respuesta fue "Si" porque era una asociacion genuina! Yo habia sucumbido ante el excelente diseño y calidad de Revol antes de soñar que algun dia podria ser su desarrolladora de recetas y fotografa!
Fue algo natural…
Como una nena con un monton de juguetes nuevos para jugar (y probablemente mas feliz), decidi compartir con ustedes mi primera receta…en este lindisimo plato de tagine. La receta de hoy sera una tagine de pescado..como una alternativa a la tradicional tagine de cordero…pero el plato se puede usar para hacer una vegetariana..o lo que quieran! Es verdad que la tagine nos transporta inmediatamente a Marruecos? a un mundo de especies…y una cultura misteriosa! pero el mismo plato se puede usar para todo lo que requiere una coccion lenta y a fuego suave…carnes braseadas, verduras "confit", etc...
Y después el truco de magia! Sorprender a la audiencia, cuando levantamos la tapa, y sale el vaporcito desplegando las mas perfumadas esencias….Si, cocinar tiene también su parte teatral!
Que lo disfruten!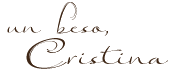 To make this Fish Tagine, you will need:
(serves 4)
*fillets  of a white firm type of fish (tilapia, or other) 4/6 *medium onions, chopped finely, 2 *tomatoes, 3 *potatoes (firm, medium size), 5 *preserved lemon, 1/2 *fish stock (in powder), 1tbsp *saffron threads, one pinch *olive oil, 5tbsp *sugar, one pinch *salt & pepper, to taste
Peel the tomatoes, making a small cross with a knife on the bottom, and dipping them for a minute in boiling water. Refresh in cold water. Skin them using a knife. Seed them.Slice them in small cubes. Peel the potatoes and cut them in not so slim slices. Chop finely the preserved lemon. Pre-warm your oven 180°C. Use your tagine dish to sauté the onions in the olive oil (on the stove) medium heat. Then add the tomatoes and the lemon. Then add the potatoes,cover with the fish stock previously dissolved in 300ml of water (and where you have stirred in the saffron threads too). Season with the sugar, salt & pepper. Cook for 15′. Then arrange the fish fillet in the same dish. Cover with lid and take it to the oven for 20′.
Para hacer esta tagine de pescado, se necesitan:
*filetes de un pescado blanco firme, 4/6 (segun tamaño) *cebollas medianas, finamente picadas, 2 *tomates, 3 *papas (medianas, de textura firme), 5 *limon "confit" (buscar en epicerias marroquies), 1/2 *caldo de pescado (en polvo), 1 cuch sop *hilos de azafran, una pizca *azucar, una pizca *sal y pimienta a gusto.
Pelar los tomates, haciendo una cruz con un cuchillito, en el extremo de abajo,y luego sumergiéndolos en agua hirviendo, no mas de un minuto. Refrescar en agua fria y pelar y sacar las semillas. Cortarlos en cubitos. Pelar las papas en rondajas no demasiado finas. Picar fino el limon.Usar el plato de tagine o uno que sirva para cocina y horno, para saltear las cebollas en el aceite (no muy caliente-temperatura media) La idea es ablandarlas, no dorar! Agregar los tomates, cubrir con el caldo previamente disuelto en 300ml da agua, y donde pusimos las hebras de azafran también. Condiementar con el azucar, sal y pimienta a gusto. Cocinar 15′. Luego pasar a horno (180°C) y cocinar tapado por 20′ mas.