Abajo, en Español
Many Argentinean dishes are stews…like this humita I show you today. Humita has its origin, in northern Argentina, in the provinces of Salta and Jujuy. It was something like the staple food of the aborigines of the region. Nourishing, creamy, full of flavor thanks to the addition of onions, peppers...
Then in modern times, "porteños" (inhabitants of Buenos Aires) started adding extra "touches" like basil, cheese (mozzarella or other, melting in the heat….), cream…..Some people will say its authenticity was marred…others will call it "fusion"
The sinequanon condition is to use fresh corn on the cob..that is grated to the core..(cans out!!!) The sort of "milk" they exude will precisely make this stew something like a "velouté"...therefore, in my opinion, no cream should be added. Keep it natural!
I included Humita in my Menu Malbec menu, and you know what? After looking at me with a disbelieving eye, the French love it! 
Who said the rustic and authentic can't be chic?
Humita Argentina,porque nos estamos congelando por aqui!
Muchos platos tipicos argentinos son guisos..como esta humita que les muestro hoy. La Humita es originaria de las provincias del norte argentino, Salta y Jujuy.  Era algo asi como el plato base de los aborigenes de la zona. Cremosa, muy nutritiva, y repleta de sabor, gracias a sus otros ingredientes: cebollita picada, aji morron, molido…
Después los porteños (habitantes de Buenos Aires) nos apropiamos del plato, y le agregamos crema, o pedacitos de queso (mozzarella o de cabra) para que se funda con el calor..No sé si lo "desvirtuamos" o lo hicimos "fusion"..enfin! 
La condicion sinequanon es que es choclo (maiz) debe ser fresco..Latas "out"!! Justamente al rallar el choclo es que vamos a obtener una leche que aporta el elemento de ligue que hara que tengamos casi un "velouté". Si los choclos son bien frescos, no se necesita crema! Cuanto mas natural, mejor! 
Inclui la Humita en mi Menu Malbec, y saben qué? Después de mirarme con desconfianza, los franceses le dijeron "Oui". Les encanto! 
Quién dijo que lo rustico y auténtico no puede ser chic?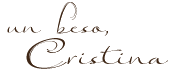 To make this Argentinean Humita, you will need:
Yield: 8/10 ramekins
*corn on the cob, 8 *olive oil, 5tbsp *onions, 2, sliced *red bell pepper, 1 *green bell pepper, 1 *garlic clove, 1 *tomatoes, peeled & diced, 2 * dry white wine, 1/2 glass *pepper flake powder, to taste *sugar, 1tbsp (optional) *salt & pepper *goat or mozzarella cheese (optional)
Grate the grains of the corn, keeping all the "juice". Set aside. In a big skillet, sauté in olive oil, the onions, and the peppers. Then add the garlic (chopped), and the tomatoes. Deglaze with the wine.Once the alcohol has evaporated, add the grated corn. Season with salt, pepper and dried pepper flakes (to taste) & sugar (if you choose) Cook 10′. Adjust consistency to taste, by adding cream, or milk, or vegetable stock. Before serving, add in some thinly sliced basil leaves, and cheese, if you like it.
Para hacer esta Humita Argentina, van a necesitar:
Rinde: 8/10 bowls chicos o verrines
*choclos (maiz) , 8 *aceite de oliva, 5 cs *cebollas, 2 *aji morron, 1 rojo y 1 verde *diente de ajo, 1 *tomates, 2, pelados y cortados en daditos *vino blanco seco, 1/2 copa *aji molido, a gusto *sal, pimienta * azucar, 1 c té (opcional), queso de cabra o mozzarella (a gusto)
Rallar los choclos conservando los granos y su "jugo". Para esto, poner el rallador sobre los bordes de un bowl, asi van cayendo los granos deshechos y el "jugo". También al finalizar, se puede pasar la parte no filosa del cuchillo raspando el marlo, para obtener asi mas del jugo que desprende. Reservar. En una sarten, saltear en aceite de oliva, la cebolla picada, los morrones, cortados en daditos, luego agregar el ajo picadito, y los tomates. Desglazar con el vino. Una vez que se evaporo el alcohol, agregar el maiz. Condimentar con sal, pimienta a gusto, aji molido, azucar (opcional). Cocinar 10′. Ajustar consistencia (si es necesario) agregando leche, o crema, o caldo de verdura.  Justo antes de servir, agregar unas hojitas de albahaca cortadas en tiritas finas, y el queso, si gusta.