Abajo en Español
Almost ready to board the plane, that in 13 hours!!! OMG, will take me to Buenos Aires…B.A. as I call to call my hometown….Fours hours of "décalage horaire", almost 40 degrees difference in temperature…yet SO happy ! When the sliding doors of Ezeiza airport open, paf! the sun dazzles me..the heat of Argentinean summer burns my skin…a swarm of people asking "Taxi Madame?"
No, my friend Patricia is waiting for me, ready to smother me in hugs, reassuring me that I look gorgeous "Estàs divina!!!" That's the first thing a good Argentinean friend tells you..even if you cannot look "divina" after trying to catch some sleep in the ever-shrinking seats of an Air France plane…
Too soon, my tight schedule is announced: "If you want…but only if you want…if you are not too tired…I have organised an "asado" (barbecue) with Belén, Francis, Pacho, Bea, Sony & Clara at home…and tomorrow there is another "asado" chez the other Patricia (80% of my friends are called Patricia!), to be followed by another "asado" chez Silvana…and like that I feel like Christine Lagarde..only my "unmissable" appointments are not IMF related….my RDVs are a chain of "asados" where I will ingest more meat that is possible to imagine in the life of a normal human being...Yes, because all Argentineans believe that their countrymen (or women) living abroad suffer a kind of meat deprivation that has to be reversed in the 15 days they go back to their country on vacation...Suddenly, I feel like a "boa constrictor" that has eaten three cows, and tries to digest that…while savoring a Rogel (dessert made with puff pastry AND insane quantities of dulce de leche!!) Yes, that is Argentinean love..We love you so we feed you until you are ready to burst!!
Do you believe that Parisian Cristina will say "no" to all these "delicacies" believing that is not "oh so chic" to eat like a pig???  "Tu parles" (very difficult to translate phrase, meaning like 'not even crazy") No, chic Cristina will ask for some "chimichurri" sauce to add to this meat !!! As I always say…"If we are going to commit a sin..it has to be a big one!!
I found the recipe for chapa bread, in Francis Mallmann's book, and you can enjoy this with whatvever you want. In the first picture, pork meat and roasted sweet potatoes…accompanied by a mustard sauce..In the second sandwich, grilled and caramelized onions, with a hint of honey..the choice is yours!
Pan de Chapa Argentino…Sandwiches Enooormes, para decirle "Hola" a Buenos Aires, o Por Qué "el Amor es Comida" para la Mente Argentina…
Ya casi lista para tomar mi avion, que en trece horas (OMG!) me llevara a Buenos Aires..B.A, como me gusta llamar a mi ciudad…Cuatro horas de diferencia horaria, y casi 40 grados de diferencia en temperatura!...y sin embargo feliz! Cuando se abren las puertas corredizas en el aeropuerto de Ezeiza, PAF! el sol me ciega…el calor del verano argentino quema mi piel…una nube de taxitas y remiseros repite: "Taxi? Remise a capital?"
No, mi amiga Patricia me esta esperando…y en cuanto me ve, casi ahogandome en besos y abrazos, me dice: "Estas divina!!" Si, es lo primero que una amiga argentina le va a decir a otra..aunque no puedas estar "divina"después de tratar en vano de dormir en los cada dia mas chicos asientos del avion de Air France…..
Inmediatamente, se anuncia mi apretada agenda: "Si querés, pero solo si tenés ganas, eh! ya organizamos un "asadito"  en casa con Belén, Francis, Pacho, Bea, Sony y Clara..y mañana, tendriamos otro asado en lo de la otra Patricia (el 80% de mis amigas se llaman Patricia) , y el lunes, asado en lo de Silvana…", y ya me empiezo a sentir como Christine Lagarde…solo que mis impostergables RDV no tiene nada que ver con el FMI...todos mis RDV son una cadena de "asados" donde voy a comer carne en cantidades imposibles de  imaginar para un ser humano normal…Si, porque todos los argentinos piensan que sus compatriotas que viven en el exterior sufren de una carencia de carne "in extremis" que debe ser inefectiblemente corregida durante los quince dias de vacaciones en el pais ! Cuando me quiero acordar, ya me siento una "boa constrictor", que se comio tres vacas, y trata de digerirlas penosamente…pero en el mientras tanto me deleito con un Rogel !! (postre hecho de capas de hojaldre y cantidades insanas de dulce de leche!!) Y si, asi es el amor argentino…Te quiero tanto que te hago comer…hasta explotar!!
Ahora, ustedes creen que esta Cristina parisina le va a decir "no" a todas esas delicias?? pensando que no queda "tan chic" comer como una cerda?!?? "Ni ahi…" No, Cristina dira: "Chicas, como no hicieron chimichurri, para poner en el choripan???!?" Y si, como yo digo siempre: "si vamos a pecar, hay que hacerlo en grande.."
Encontré esta receta del Pan de Chapa, en el libro de Francis Mallmann. Excelentes pancitos a disfrutar con lo que uno quiera! Aca, en mi primera foto, con cerdo fileteado y batatitas al horno, con una salsita de mostaza..en el otro, cebollas grilladas y "confit" en miel y romero...La opcion es infinita… la eleccion de ustedes!
A disfrutar!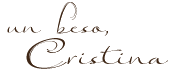 To make this Chapa Bread, you will need:
*all purpose flour, 4 cups *coarse salt, 1tbsp *active dry yeast, 1 packet (5gr) *olive oil, 1tbsp *warm water (110°F), 1 1/4 cups
Combine the flour, salt, and yeast into the bowl of the mixer with the paddle attachment. Mix on low speed. Add olive oil, then water gradually until the dough comes together. Change for the dough hook & knead on medium for 5′, until the dough is smooth & elastic. Transfer dough to the counter & knead lightly & shape into a ball. Place in a large floured bowl. Cover with damp cloth. Let it rise in a warm place for 45′/1 hour. Roll out dough into rectangle about 6 inches by 12 inches & 1/4 inch thick. Using a sharp knife, cut it into 3 inch squares. Place on a floured baking sheet, cover with damp cloth, & let it rise in a warm place till double in size, about 30′
Heat a chapa (or oven 180°C) over medium low heat. Place the bread in batches on the chapa. Reduce the heat to low, and cook until puffed & browned on the bottom, 5′. Flip and brown on the other side. To serve, split open with a knife & fill with your choice of sandwich ingredients.
Para hacer este Pan de Chapa, se necesita:
*harina comun, 500gr *sal gruesa, 1cda *levadura fresca, 15gr o 5gr de levadura seca *aceite de oliva, 1 cda *agua tibia, 310ml
Poner la harina, sal y levadura en un bowl, el aceite de oliva, y luego de a poco el agua hasta que la masa esté unida. Traspasar a la mesa enharinada y amasar 10′, hasta obtener una masa elastica y lisa. Darle forma de bola y colocarla en un bowl enharinado, cubrir con lienzo humedo, y dejar levar 45′ en lugar calido. Extender la masa formando un rectangulo de 15×30 y 6mm de espesor. Con un cuchillo afilado, cortarla en cuadrados de 7/8cm. Ponerlos en una placa para horno enharinada, cubrirlos con un paño o lienzo de cocina humedo, y dejarlos levar. Calentar una chapa o una plancha grande de hierro fundido sobre fuego moderado a suave. Colocar los panes, en tandas, sobre la chapa…reducir fuego al minimo, y cocinar hasta que se inflen y estén dorados en la base, unos 5′. Darlos vuelta y dorarlos del otro lado. Rellenar con los ingredientes de nuestro sandwich preferido.