Abajo, Version en Español !
For those who can, want celebrate Valentine's Day, an easy dinner option here….starting with the starter, of course! This verrine takes no time, yet it will impress! It is almost a "Chef Express", but WARNING! This will be sublime if, and only if, we choose first quality products….Cheese from the supermarket? Out!! Look for your local farmer…Same for the tomatoes and olives....use a good quality olive oil….then yes…you won't need more!
In this case here, instead of the maybe typical mozzarella cheese, I used a goat faisselle /feh-sel/. It is an unsalted soft curd cheese, which is placed in a container pierced with holes, which in turn in placed in a bigger bucket, so that the milk serum circulates freely and keeps the cheese fresh. This cheese is low in fat, and can be eaten "nature", with herbs, or tomatoes, or for desserts, with quince, or other fruits!
Here, I made a green tapenade, typical "dip" from the South of France, made with green olives, anchovies, garlic (optional) and a little lemon juice. (Tapenade is most often made with black olives, as you see in my first recipe here) It's easy, fresh, colourful….Simple, like love! (?) Not so simple sometimes, right? Anyway, our efforts merit to be rewarded!! I wouldn't mind getting that little turquoise box..Am I not like Audrey Hepburn??!?
San Valentin: Verrine de Queso de Cabre, Tomates y Tapenade (Entrada)
Para aquellos que pueden, y quieren celebrar el San Valentin, vengo con una opcion facil de cena…y empiezo con la entrada, por supuesto! Esta verrine se hace rapidisimo, sin embargo, impresiona! Casi es digna de "Chef Express", pero ATENCION! solo sera sublime, si la hacemos con muy buenos ingredientes…productos de primera calidad, si es posible artesanales…Queso del supermercado? Out !!! Si encontramos algun productor local seria perfecto….Lo mismo para los tomates y aceitunas…un buen aceite de oliva…y no se necesita mas!!
En este caso, en vez de la clasica muzzarella, usé un queso de cabra, es casi un curd de queso de cabra, que aqui en Francia se llama Faisselle /fe-sel/. Tiene consistencia tipo queso crema / yogur, es sin sal, y tiene poca materia grasa, solo 6%. Viene en unos potes con agujeritos, para que el suero drene, pero al mismo tiempo, estos potes estan en uno mas grande, de modo que el queso se mantiene fresco. Se puede comer solo, con hierbas, tomates, o acompañando frutas, como el membrillo u otras! 
Como base de la verrine, preparé una tapenade de aceitunas verdes. La tapenade es como un dip, tipico del sur de Francia, que se hace normalmente con aceitunas negras (Yo lo hice aqui!), pero para esta verrine lo hice con verdes, mas anchoas, un dientito de ajo (opcional) y un poquito de jugo de limon. Es facil, fresco…lleno de color..simple como el amor!! Simple? Bueno, a veces no lo es tanto, no? De cualquier manera, merecemos ser recompensadas por nuestros esfuerzos!! y si, la cajita turquesa no me venia mal..Acaso no soy como Audrey Hepburn??!??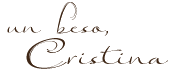 For this verrine, for two people, you will need:
*tomatoes, 2, depending on size *faisselle, 1 (or the cheese of you choice, muzzarella di Buffala, burrata, etc) *vinaigrette made with two tbsp of olive oil, 1/2 tbsp balsamic vinegar, salt & pepper to taste *basil leaves, 2 + some for decoration *pine nuts, for decoration
Slice one of the tomatoes in petals (you can peel the tomatoes if you don't want the skin) Slice the other tomatoes in cubes. Slice the basil leaves thinly. Put them in a bowl together with the tomato cubes and a bit of vinaigrette. Combine well.
For the Tapenade: *pitted green olives, 150gr,  *anchovies, 3 *garlic, 1/2 clove (optional) *lemon juice, 1 teaspoon *olive oil, pepper
Put the olives, anchovies ,garlic and lemon juice in the food processor. Give two or three pulses. Add olive oil till the right consistence. Pepper to taste.
In a verrine, place a bit of tapenade, then the tomatoes in cubes, some spoonfuls of faisselle, the tomato petals, sprinkle with some extra vinaigrette. Decorate with pine nuts & basil leaves. Crush some pepper on top. You can sprinkle with Fleur de sel or Maldon Salt.
Para esta Verrine, para dos personas, se necesita:
*tomates, 2, depende del tamaño *faisselle, 1 (o el queso que les guste, puede ser  muzzarella di Buffala, burrata, etc) *vinagreta hecha con 2 cdas soperas de aceite de oliva, 1/2 cda sop de aceto balsamico, sal y pimienta a gusto *hojas de albahaca, 2 + algunas para la decoracion *piñones, para decorar
Cortar uno de los tomates en petalos. Sacar la piel si uno prefiere (yo no se la saqué) Cortar el otro tomate en daditos. Cortar las hojas de albahaca en tiras finitas. En un bowl, poner los dados de tomate, la albahaca, y un poco de vinagreta. Mezclar bien
Para la  Tapenade: *aceitunas verdes descarozadas, 150gr,  *anchoas, 3 *ajo (opcional) , 1/2 diente *jugo limon, 1 cda té *aceite de oliva, pimienta
Poner las aceitunas, anchoas, jugo de limon en la procesadora. Pulsar 2 o 3 veces. Agregar aceite de oliva hasta obtener la consistencia deseada (debe quedar como una pasta espesa)Sazonar con pimienta, a gusto.
Para armar la verrine, empezar con un poco de tapenade. Después los tomates en cubos. Agregar un poco del queso. Luego los pétalos de tomates. Un poco mas de queso. Rociar con una cdita de vinagreta. Decorar con hojitas de albahaca y los piñones. Moler un poco de pimienta y agregar un poquito de Fleur de Sel o Sal Maldon.