Abajo, version en Español !
The French don't eat panettone for Christmas…their thing is the "bûche"…I think, we Argentinians got it from the Italians..not for nothing our country got the biggest wave of Italian immigrants in all the world, at the beginning of the XXth century…
Christmas time is very hot in Buenos Aires..yet, for dessert, we think of nothing but a fruit salad, and then kilos and kilos of panettone.."pan dulce" as we call it over there! Oh, I was about to forget…also "turron" (nougat)…yes, Spain has to be present too!! 
One "negative" thing about panettone, is that, when it is very big, and you don't eat it all, it dries out fast! This is why, for my clients in Menu Malbec,  I decided to make these mini-panettones
Unfortunately, I cannot give you my recipe..You will understand, I hope! My recipe is part of my business…Yet, there are things that come to our sight: caramelised almonds, raisins, citrus, cashew nuts, chocolate and royal icing…
I think this is the perfect size for a moment of "selfish indulgence"..….
I hope you enjoy it !!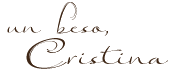 Mini – Panettones, para mi ©Menu Malbec
Los franceses no comen panettone para las Fiestas. Lo de ellos es la "bûche"…Qué raro,no? Estan tan cerca de Italia….Creo que a nosotros, los argentinos, esta tradicion nos vino de nuestros inmigrantes "tanos" (italianos) No para nada, el "éxodo" de italianos hacia la Argentina, a principios del siglo XX, fue el mas grande de toda la historia de Italia!
Para Navidad, hace mucho calor en Argentina. Nuestra idea de como terminar la cena navideña pasa por la ensalada de fruta, helado y kilos y kilos de panettone…"pan dulce", lo llamamos alla. Ah, y ya me olvidaba, turron por supuesto! España también dice "presente" 
Una cosa "mala" del panettone es que si es grande, y no lo comemos todo, se seca rapidamente. Por eso, para mis clientes de Menu Malbec, decidi hacer estos mini-panettones…
Desgraciadamente, esta vez, no puedo compartir la receta: ustedes comprenderan (espero!) Esta receta es parte de mi "negocio" Uno no va al restaurant, y a la salida, le dan una hoja con las recetas del chef….! Sin embargo, casi todo esta a la vista: pasas de uvas, citricos, almendras caramelizadas, nueces de Caju, glacé….
Creo, que estos "panettoncitos" son perfectos para un momento de "egoismo absoluto"…..
Que los disfruten!