"Again quinces Cristina? Haven't you made something with that last week?"
Yes, precisely….too many slices of quince poached in red wine, so I thought they would come in handy for a "crostata"..This italian word…so musical….I had lots of almond flour at home, so…..Nothing, just the reward….my girls adore to be welcomed back home from school, with this crostata, their warm milk (yes, they still drink warm milk but this is a very Argentinian habit…the land of cows..you know!)
Now yes….no more quinces in Malbec! This wine sauce so like syrup, scented with cinnamon and clove...Look at them in that photo! So sweet, so red, so tango in their black "apparel" ! Well…it's normal…. Cristina, from Buenos Aires speaking…..
Enjoy!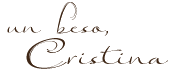 To make this
Quince Crostata,
you will need:  For the
crust, and filling,
follow my recipe
here.
For the quinces poached in red wine, go
here
. How much crust dough you will need depends on the size of your ring molds, but let's say the quantity in the crust recipe is quite generous. Use what you need, and freeze the rest. Follow exactly my instructions for the Apricot Amandine Tart..Don't use apricots ;D..use quince!