Melon sorbet? We have seen that many times….and it sure makes a wonderful dessert. Now why would we deprive ourselves of all its freshness when it's time for appetizers, brunch or a casual dinner? 
It seems to be the perfect match for these Italian grissini with prosciutto ! But…this melon sorbet does not come alone.…its sweet flavor is given "a kick" by the presence of the French invader, the Piment d'Espelette! 
Of course, flying to France to buy this piment is not a sinequanon condition..You can use your favorite pepper (freshly grounded), paprika, Spanish "pimenton", chilli.…The choice is yours…as well as the pleasure, of seeing your guests' inquisitive eye change into a smile of indulgent satisfaction !
Enjoy!
I'm leaving France for a first-time-in-my-life visit of California !! I'm SO excited about it!! But, I've been a good girl this time, so while I will not be physically in Paris, my posts (technology permitting!) will be posted at my usual, relaxed pace!!!!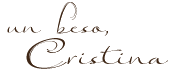 To make this Melon Sorbet, with Piment d'Espelette, you will need:
*melon (cantaloupe, honeydew), 1 kg, diced *sugar, 200gr *glucose, 100gr water, 300ml *Manzanita (Marie Brizzard liquor), 1 tbsp * piment d'Espelette (or your favorite pepper), to taste
Cut the melons. Scoop out seeds. Cut off the rind. Mix the melon into a purée using a food-processor. Take the water, sugar and glucose to a boil (the presence of glucose and later, the alcohol, will help the sorbet not to crystallise). Let this syrup cool. Incorporate the melon, liquor and piment. Refrigerate for 3 hours minimum.
Pour the mixture into your ice-cream maker. Use according to instructions.