In France, as soon as January ends, we put away our Galettes des Rois (like here, or here), to start making crêpes. Et oui, February marks the Chandeleur in the calendar, and the beginning of the crêpe season ! I wanted to share with you a more original recipe, than the Crêpes Suzette (that I have already made here!), crêpes with an egg and cheese, or crêpes with dulce de leche, typical Argentinian dessert! And, in my second home (i.e. Le Bon Marché stores, in the cookbook section, I found a book completely devoted to speculoos !!!! What is a speculoos biscuit? Well, it is a specialty of Belgium…a dry, sweet but spicy biscuit, that makes a heavenly match with your coffee..so much so that most Parisian cafés serve it together with the petit noir….
I always say jokingly but with all my respect and admiration for Belgium, it is one of the reasons why the Belges should never cease to exist !! But truly speaking, what a country !! Leaving aside its natural, historical and architectural beauty, they make the best chocolate in the world (remember my chocolate saga, in Brugges, here? ), hundreds of different types of beer, the frites, the moules-frites !!! ( mussels with French fries) and a Belgium called Hergé created Tintin, the comic strip character…and generations of Europeans (including my children) have grown up reading these stories…
I don't know if in your country you will be able to find speculoos, and speculoos cream (I'm sure we can order it on line) but according to the wise opinion of my daughter Camila, the world does not know what they lose if they don't have speculoos (and believe me this girl knows what she is talking about…) The crêpes look darker than usual, due to the addition of the speculoos cream and speculoos biscuits dissolved in the milk!! Plus…Plus !!! Grand-Marnier AND orange zest…What? do you still have to think about it? You can serve them warm, "nature" (i.e.: with nothing else on them), with a dollop of "crème fraîche", or speculoos cream… In that last case, please, go to the gym for two hours ;D
And from a very "wintery" dessert, I pass on to icecream, my dulce de leche icecream, whose recipe you have here…but this time, I included some chopped meringues and strawberies…
I guess I made this dessert just because I was looking forward to my trip to Buenos Aires!!!
Yes, finally, I'm going back "home" to visit family and friends…to go back to my roots, to my people…to my "asados" (barbecues), my "mates", and my dulce de leche…
To talk for hours…days!!! with my friends till my throat aches…can you believe I have already an agenda filled with RDV that would make Hillary Clinton pale with envy?? Friday: whole day with Alicia in Bella Vista….Saturday: Patricia, in Tigre….Monday: the other Patricia and Estela in Belgrano…Tuesday: the other Patricia in downtown BA….Wednesday probably…the other other Patricia in Pilar..(can you believe I have six friends called Patricia???) plus, Silvana… that is picking me up at Ezeiza airport…but then when Patricia learnt that Silvana was picking me up at the airport and so she was going to be the first person to see me, she got jealous and said: "then you are coming with me to the "chacra" (country estate) in Entre Rios !!! (which of course I love, because the "campo" and the horses are part of my blood and childhood…
And you know what? I feel delighted of all this "friend harassment" because it means that they love me and miss me as much as I love and miss them !!
I will surely post something, to let you know how I am getting along, to share my Buenos Aires with you..I will not cook though..my friends will do it (Hourray!!!) and I will go to restaurants….
I'll be back in Paris the last days on February, but I'll check on your work ;D because blogging and reading bloggers is an addiction, and because otherwise I would miss you too!!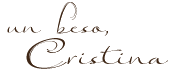 For these Speculoos Crêpes, you will need:
(yields 15 crêpes)


*eggs, 3 *Speculoos cream, 1 big tbsp (if you can't get the Speculoos cream, add 10 extra speculoos biscuits to the milk) *brown sugar, 25gr *all purpose flour, 125gr *orange zest, 1 *butter (melted), 35gr *Grand marnier, 1tbsp *oil (sunflower), 25gr * Speculoos biscuits, 5
Put the eggs, sugar and the Speculoos cream in a bowl. Add gradually the flour, stirring well to avoid lumps. Add in the orange zest, melted butter, oil and Grand Marnier. Dissolve the Speculoos biscuits in the warm milk. Combine the milk with the rest of the batter, and refrigerate for one hour. Heat a non stick saute pan (here 18cm in diameter) Pour some oil on the frying pan and rinse it with some paper.Pour one ladle of the batter. Cook the crêpes medium heat. When the edges separate from the pan, flip the crêpe over, and cook the other side. How many minutes? It depends on thickness chosen. Check you have a nice golden color. Repeat the oiling process for each crêpe!
Recipe adapted from the book: Original Speculoos-Editions Agnès Viénot