The title of this dish sounded so Italian, so musical when pronounced..and then I remembered my father's phrase (maybe, one of the few phrases he knew in Italian) "e dopo morire" meaning nothing in life would give you as much pleasure…
I love risotto in all forms, and I love making risotto…It requires mastering a technique..OK, you don't need a PhD in Culinary Sciences to make it ;D but little tricks have to be respected! if not it will be dry, or just simply, not "al dente" (check for do's & don'ts in my recipe section). And then the squid, sauteed, the perfect amount of time so as not to end up with a "plastic ring".
I find this recipe "al nero di seppia", not only delicious but also elegant! When you add the ink to the arborio rice that we have made "nacré" (turn into a pearly color), it becomes a gray pearl, like the ones I see in the jewelry shops in the Place Vendôme…so exquisite, so unique in its gray/white glow…
So I thought this dish would be perfect for Valentine's Day!! I hope you get gray pearl earrings too!! (Will my husband read this post? Sniff, sniff…most often, he only looks at the photos =(
I hope you enjoy it as much as I do !! I would also like to thank my friend Chef Gaston Stivelmaher, from Le Grand Véfour, for teaching me this recipe! Also, I would like to express all my appreciation to Emily, from Splendid Market, for giving me the "Stylish Blogger Award"…I love that!!! Thank you Emily!!!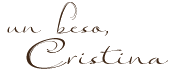 To make this Risotto al Nero di Seppia, with Sauteed Calamari, you will need:
(4 servings)


*arborio rice, 300gr *onion, sliced, 1 *dry white wine, 200ml *fish stock, 300ml *vegetable stock, 200ml *butter, 2 tbsp *olive oil, 2tbsp *squid ink, 12gr *red bell pepper, 1, cut in brunoise *salt, pepper & parmesan cheese, to taste
*calamari rings and /or prawns, according to taste
In a saucepan or cocotte, heat the olive oil to sauté the sliced onion and the red bell pepper. Add in the rice. Stir constantly until the rice changes to a "pearl" color (nacré). Don't allow rice to burn! Pour in the wine, stir till completely absorbed. Then add in the squid ink, and start adding first the fish stock….The stock has to be hot, if not, if cold, you stop the cooking process of the risotto! Don't add more stock until the first one is completely absorbed! Then add in the vegetable stock. You can use more or less squid ink according to how black you want this rice to taste. Total cooking time will be aprox. 20′. Rectify seasoning.Before the stock is completely absorbed and when rice is almost "al dente", turn off the fire. Let it rest 2′. Add in the butter. In this recipe, we are not adding mascarpone or a lot of parmesan cheese, because we want to taste like sea food! While the rice is resting, heat a bit of olive oil in a frying pan, and cook the calamari rings, just a few seconds each side, same with the prawns, that you have previously peeled and cleaned (intestine removed).