Thanks to the judges and your generosity (thank you SO much!!!!), here I am in Challenge #3. Guidelines? A luxury dinner…I love receiving my friends home in a cool, no-frills atmosphere, but yes..sometimes there are occasions in life when we have to cook "to kill" (so to speak..LOL) Business dinners, first-time in-laws…that particularly obnoxious sister in-law???!! (Oh, come on, Cristina !! You don't say things like that in a blog…all bloggers are angels cooking directly from Heaven) Well, whatever the reason, sometimes we MUST make a good impression!!! but modern people that we are, we don't want to spend days cooking…so my challenge is to prepare for you a luxury dinner, high on visual impact, low on time…Impossible? Just wait and see!
Place? Paris, October 2010. Mission? Five-course Luxury Dinner… Time? Little, little time !!
So, a French dinner party, perfectly balanced: sea-food, poultry, meat, cheese, dessert, la crème de la crème française !!!! I will try to show the world what a typical French dinner would be like, how to adapt it to foreign palates….and some dos and donts!
Oysters in Cider Sauce
Preparation Time: 10′
Foie Gras sauté in Apple Sauce
Preparation Time: 30′
Pork Roast with Chestnuts "Confit", and "Fondant/Croquant " Sweet Potatoes
Preparation Time: 20′
Cheese Selection
Here (from left to right) Brillat-Savarin, Epoisses, Ossau-Iraty, Brie, Roquefort
Tropical Passion: Sponge Cake "punché" in Rhum, Mango/Banana Compote, Pineapple, Vanilla Icecream
Preparation Time: (day before: 15′) + 30′ (or less!!!!!)




Oysters always add "a touch of class"…On top of being delicious, they are ready in no time..!! The fact that they are presented here, in an apple-cream sauce, makes them appealing even for those guests who might not like their too "sea-salty" taste!




Foie-Gras…I know, for non-French might be "difficult" to eat….This is why I sliced it very, very thin! This is like having a "glimpse" of its flavor and texture..Good for a first "foie-gras encounter"….




Pork is generally a crowd-pleaser..Sweet chestnuts "confit" (that you can buy ready-made, or "glacé" the ones you will find in a park..it's the picking season!) Sweet potatoes: crispy in the outside, but with a "heart" that will melt in your mouth…!


Cheese selection: remember to take the cheese out of the fridge around 45′ before serving! In your selection, there should be variety between cow, goat, (and sheep) milk cheese, and soft and hard paste! It's a good idea (if you have the room) to put the cheeses on a different table, so that guests move around, they don't have to be sitting all the time…this encourages new conversations between different groups or people…
In France, a dinner party is a formal event…you are expected to be well-dressed…don't arrive there in your tennis shoes…!
Even the youngest ones get ready for the occasion! They also want to be "chic" …. Well, it's easy with girls…!
However, I always have trouble convincing my son that dinners in France ARE formal !!! This is his idea of elegance…! (no comments ;D
I named this dessert, that I created, Tropical Passion: bananas, mango, pineapples, orange, vanilla, rhum…Almost a cocktail !!!




As if we hadn't had enough calories, coffee with velvet-textured chocolate…. In France, it is also very popular, to drink "tisanes" (herbal teas) after dinner


Now you will understand why, when I came to France, directly from Argentina, with no knowledge of cooking whatsoever, these formal dinners were a "nightmare" for me!!! Thinking of reproducing something like that was completely out of my capacity…BUT I'm a stubborn girl…I said to myself: "I will learn too" If I could do it, you can do it too, and better!
Well, I hope you have enjoyed this "virtual" invitation to a Parisian dinner, and that you will make some of the recipes at home…That would be my real success! However, (and I feel terribly embarrassed!) I have to ask you to vote for me (if you believe my work is worthy of your vote) between 6am Pacific Time October 4th, to 6pm October 7th.
Thanks a lot!!!! Muchisimas Gracias !!!!!!!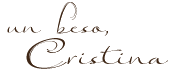 If you want the recipes, see below…
Oysters in Cider Sauce (serves 6)
* oysters, 3 dozens * cider, 1/2 litre * thick cream, 30gr *butter, 100gr * persil, salt & pepper
Open the oysters (be careful!!!, use the right utensil if you can, not a knife)
Put the oysters in the boiling cider for 1′. Remove and strain. Keep them warm. Keep the cider boiling till reduced to 1/3. Add the cream. Heat to a boil. Add in the butter (in pieces). Whisk under low heat. Season with salt & pepper to taste. Accomodate the oysters on a serving dish with coarse salt (to prevent them from "flying away"), pour a bit of sauce on each oyster, sprinkle with finely chopped persil.
(Recipe adapted from "Le Grand Livre de la Cuisine-Elle")
Foie Gras sauté in Apple Sauce (serves 6)
* raw foie-gras of 500gr approx., 1 * apple juice, 300ml * green apples, 2 * lemon juice (1/2 lemon) * white vinegar, 2 tablespoons * sugar, 150gr * vanilla pod, 1 (cut lengthwise) * salt & pepper
Remove any possible nerves from the foie-gras. Be careful not to make "cuts" to the foie-gras. Cut the foie gras in slices of a bit less than one inch (2cm) Refrigerate.
Put the sugar and 70ml of water in a saucepan at medium/low heat.Take to a boil without stirring. When color changes to a light caramel, add in the apple juice and vinegar..Be careful!!! Do it little by little…the caramel will splash!! Scrape the grains from the vanilla pod. Add to the sauce. Let simmer 10′
Wash and dry the apples. Cut them in thin slices without peeling. Sprinkle with lemon juice. Set aside.
Heat a non-stick skillet medium/high (no oil..nothing!) Place the foie-gras slices. Cook 30 seconds !!! (if you leave it more, the foie-gras will virtually "disappear") Turn around. Cook 30". Remove from skillet. Serve on the plates. Decorate with the apple slices and a spoonful of apple sauce.
Recipe adapted from chef Jean Sulpice, restaurant L'Oxalys, Val Thorens)
Pork Roast with Chestnut Confit and Spices, Fondant/Croquant Sweet Potatoes
* pork roast, 900gr *marrons confits, 1 pot (or follow the recipe to make them confit) * garlic cloves, 4 * salt, 1 coffeespoon * sugar, 1 tablespoon * 5 spices, 1 tablespoon * onion, 1 * ginger, 1 big nut, * sunflower oil, 2 tablespoons, * gin, 4 tablespoons, * butter, 20gr, * sherry vinegar, 2 tablespoons * juniper berries, 1 coffeespoon
The day before: slice the garlic cloves into two, and put them inside the roast. Combine the salt, sugar and 5 spices and rub the roast with it, till complete adherence. Wrap the roast in plastic film. Refrigerate all night or several hours. The following day: Chop the onion. Make it whiten in a cocotte with the oil and the butter. Put the roast on the onions, and sear the pork until it gets a golden brown crust. Peel and grate the ginger. Put it inside the cocotte, with the juniper berries, the gin and half a glass of water or vegetable stock. Cook medium heat (60′), sprinkling the roast with the juices from time to time. Some minutes before it is done, strain the chestnuts keeping aside the syrup. Put the chestnuts in the cocotte and cook for another 15′. At the last moment, turn up fire to high, pour the vinegar, wait a few minutes till it evaporates and serve immediately.
If you can't get chestnuts confits, get some chestnuts and "confit" them like this: in a saucepan, put 100gr of sugar, and 100gr of water. Take to a boil. Add in the chestnuts. Simmer for one hour, till chestnuts are soft and sweet.
Fondant/Croquant Sweet Potatoes
*sweet potatoes, 1 kilo * clarified butter or ghee * thym *chicken stock
Peel the sweet potatoes and shape them into squares like in the photo. Sauté the sqaures in a frying pan with the ghee. They should be golden on all sides. Add the thym and enough chicken stock to cover the squares by half. Cook covering with aluminum foil until tender.
Tropical Passion
The Day Before: For the sponge cake (or génoise), follow the recipe here. Put the batter in a big baking dish. We don't want it very high here. Cut it in circles using a ring mold (here, 8cm) You will get 6/8 circles with this recipe.
Secret (shhhh!!!!!) If you really don't have time, you can buy it in a good bakery…

To make a sirop d'imbibage, following the recipe here, add some rhum to taste.


To make the compote: cut 2 mangoes into small cubes, and two bananas in thickish slices (sprinkle the bananas with lemon juice!) Put 2 tablespoons of butter in a skillet, add the mangoes and bananas, then add 3 tablespoons of brown sugar. Cook till sugar begins to caramelize. Don't overcook the fruit! We don't want a purée. Let the compote cool. Add powder gelatin..How much? this is what I said about giving you tools…Gelatin should be 1,5% of the total mass…so weigh the compote mixture, figure out 1,5 % …let's say it's 8 gr…Dissolve 8gr in 5 times cold water. Let it hydrate. Then, warm just a little bit in micro-wave. Incorporate to the compote. Put the compote into this type of silicon mold, that in France is used for "inserts" (hidden layers of mousse, for ex, inside the entremets)


Put it in the freezer for 2 hours. Then unmold. Place on the cake rings.
The idea is that the "insert" should be slightly smaller than the cake. Cut the pineapple rings in small pieces (you can use canned pineapples!)
Finish this dessert adding a dollop of vanilla icecream (recipe here) or if pressed for time, buy some good-quality icecream. Decorate with slices of orange and chocolate.