Et oui, ever since I started thinking what to write my first entry for the Project Food Blog Challenge that I started reminiscing about my first cooking lesson in Argentina, with my dear and admired Beatriz Chomnalez…and my first dessert was this one…these apples..That day, Beatriz said in French: "Emincé de pommes sur Crème de Pistache et Fruits rouges" Wowww !!! I thought at that moment !!! I was in heaven…However, it is a very simple dessert, but it looks so sophisticated when you announce it !!! I remember the following Sunday, I invited some friends home for the typical Sunday "asado" (barbecue) and then I presented this…you know what? My friend took photos !!! They were so impressed !! (well, it is not difficult to impress Argentinians ;D … I was so happy, and let's admit it, so proud of myself!


This is the reward in cooking, in learning to cook! Immediate feedback! And this seals the love relationship..because like in any relationship, you give…you make efforts but you expect some sort of payback…the payback here being the smiles of my friends…once they had finished their share, seeing that they went stealthily into the kitchen to see if I had more…the glow of pride in the eyes of my husband and kids…
A few days ago, September 11th, was Teacher's day in Argentina. On this day, there is a celebration in all our schools in honor of our teachers. We usually give them a flower, a bouquet, a small present..It's the day to say "thank you" to those people that hopefully will leave a positive imprint on our lives. By means of this post, I would like to thank my dear Beatriz, not only for teaching me, but for believing in me!!! One day, I don't know what we were talking about, but she looked at me very seriously, with her peaceful 80-year old face, and she told me: "You will succeed Cristina…" I asked her: "How do you know?" and she said: "I know…"
"Ever since that day, my dear Beatriz, I work hard so as not to let you down…."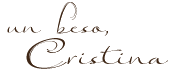 For the recipe, click below






To make these Sliced Apples in Pistachio Cream with Berries, you will need:
(serves 4)


* green apples, 2
* sugar (to sprinkle the apples)
* butter (to butter the mold and sprinkle the apples)
* red currants, raspberries (according to taste)
* cream, 100ml
* pistachio paste, 15gr


Peel the apples, cut them in twos, remove the core. Butter a baking pan. Place the apples trying to keep their shape as you see in the photo.
Sprinkle them with pieces of butter and sugar. Bake (190°C) for 20′ aprox. They should have a golden color.Heat the cream, add the pistachio paste. Add a little sugar (optional). Refrigerate.
Warning: Pistachio paste + cream gives a weird color, so I added some green colouring..
Suggestion: in most countries, it is very difficult to find pistachio paste. You can make it mixing 100gr of pistachios, that you will combine with one egg white and one tablespoon of icing sugar. Refrigerate for one hour.
Place the apples carefully on each dish. Put the pistachio cream around. Decorate with the berries.