Continuing with my provençal recipes, how to avoid the "pissaladière"? Mind you, it is not a thing to be avoided, a close encounter will be much appreciated !!! "La pissaladière" is normally made with bread or pizza dough, onions (in an important quantity), anchovies and black olives….
Since this is my version, I changed the bread dough for a good and generous layer of puff pastry! (not the thin thing you buy at the supermarket…) I bought this one, though ;D …. but it is the good-quality, pure butter, frozen (or not) puff pastry that you adapt to your purposes…we need a thick layer here, crispy, that will fill your mouth and plate with buttery flakes….
And then lots of onions, that we will sauté in olive oil, slowly….not changing colour, to receive at last!! the visit of some sumptuous honey to turn the Cinderella onions into sweet royalty…..The salty anchovies will make their statement, though ! This is why I decided not to include olives…(sorry purists!) Tomatoes? Some people say yes, some people say no…You can add some Provence herbs…Basil? not in the original…but Nice is so close to Ventimiglia that I said "yes" to the Italian intrusion !!!! I added some shredded leaves to the onions, and some leaves for decoration..
This pissaladière (that is a pizza "à la française", with neither cheese nor tomato sauce) can be served in small squares as an appetizer….in smallish circles as a first course…..or in a more generous size, if served as main course, with a salad….Now, don't come up with a huge thing!!!! otherwise it will lose its French charm….and we want to be "chic", don't we? (smile)
Enjoy it!!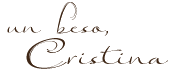 PS: I always make all the doughs in my recipes, except puff pastry! Why? Because it takes too much time, patience and room to make it at home (if you saw my tiny kitchen!) and because in France and in Argentina (I don't know about the other countries) there are excellent suppliers of home-made puff pastry…so I profit from them!
Interested in this super-easy recipe?




To make this pissaladière, you will need:
(I made 4 10cm-squares, and 2 16cm-circles)
* puff pastry, 500gr
* green onions, thinly sliced, 250gr
* shallots, sliced, 4
* basil leaves, to taste
* olive oil, 5 tablespoons
* honey, 3 tablespoons (or to taste)
* anchovies in oil (to taste)
* cherry tomatoes (for decoration)


Defrost your puff pastry putting it in the refrigerator. Take it out when it is still quite cold (not completely soft!) On a floured board, and using a slightly floured rolling pin, roll out the dough till it is 4mm high. Cut the squares or circles. Place them on a baking tray with parchment paper slightly sprinkled with cold water. Put the tray in the fridge. Remember good puff pastry has generous butter, so in the summer, all this process has to be done quickly to prevent the butter from melting! Also, puff pastry inflates due to the temperature shock…this is why we need a cold dough that goes to a very hot oven!!
Sauté the onions and shallots in the olive oil, using a pan at medium/low heat..onions should stay white, add the honey and cook in low 5′. Salt & pepper if necessary
Preheat your oven 210°C. Take the baking sheet from the fridge, prick the pastry with a fork,
accomodate the onions on the squares or circles, add the anchovies, sprinkle with the shredded basil leaves. Here I used some piment d'Espelette for the colour and extra flavour!
Bake till deep golden. Once out of the oven, you can decorate with some cherry tomatoes and fresh basil leaves!